Undoubtedly one of the finest Indian batsmen of the modern era, Rahane is one of those few lads who would call for a run and wish his partner good luck at the same time.
He many not be the strongest, he may not be the fastest, but as they say, hard work always beats talent if talent does not work hard, Rahane has surely emerged as one of the finest Indian batsman of the modern era scoring centuries almost in all major test playing nations outside the sub- continent.
Let's Help You Know Rahane A Little Better:
1. His Journey To The Game.
Addressed as Jinx by captain cool, Rahane's journey to the game has not been easy.
He belongs to a lower middle-class family and he was already  17 before he could afford to have his first coach in the form of Pravin Amre.  Prior to that, his father used to take him to Dombivali in Mumbai to practice on a matting wicket.  Well done for hanging in there Rahane… They never said it would be easy but in the end, it was definitely worth it!
2. You don't mess with the Rahane
He surely does not come across as an aggressive cricketer or neither does he look very muscular but wait….
He has a black belt degree in Karate. They say – Never judge a book by it's cover,  Rahane proved them right 🙂
If Cric Crak was playing the guessing game and was made to guess which Indian cricketer has a black – belt Karate degree he would have surely got this one wrong. Who Would have you guessed?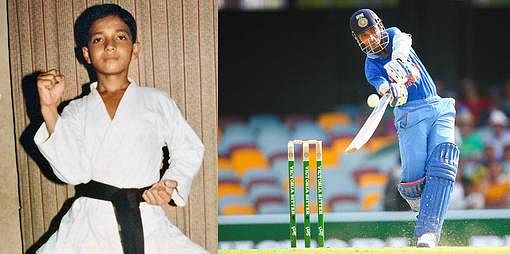 3.  In The Books of Cricket History
Ajinkya Rahane holds the record of being the first ever player in the history of cricket to hit 6 consecutive boundaries in an over in a T- 20 match. He smashed Sreenath Arvind from Royal Challengers Banglore to all corners of the park in the IPL 2012.
4.  Special Connection With Rahul Dravid
Ajinkya Rahane is one of those few lucky players who has played alongside Rahul Dravid in his only T- 20 international.
The wall and Rahane debuted together in that match which was eventually Dravid's first and only T20 Match.
Jinx scored a quick- fire 69 of 39 deliveries whereas Jammy Scored a breezy 31 of 21 with surprisingly not a single boundary but 3 sixes. Cric Crak was surprised to see that side of Dravid and wished he could see more of that from Dravid's willow in International T- 20 Cricket.Chasing 165 England eventually went on to win that game by 6 wickets.
5.  A Special Compliment By Sachin Tendulkar
He was praised by none other than the great Sachin Tendulkar in his book Playing it my way.
Tendulkar stated "I had known Rahane for years and had seen how much he loves the game. He has served cricket with complete dedication and commitment over the last few years. I said to him that he might feel hard done by what had happened in his career so far, but should continue to be the way he is, for I was sure Ajinkya would get another chance." Now That is surely a compliment to remember for life 🙂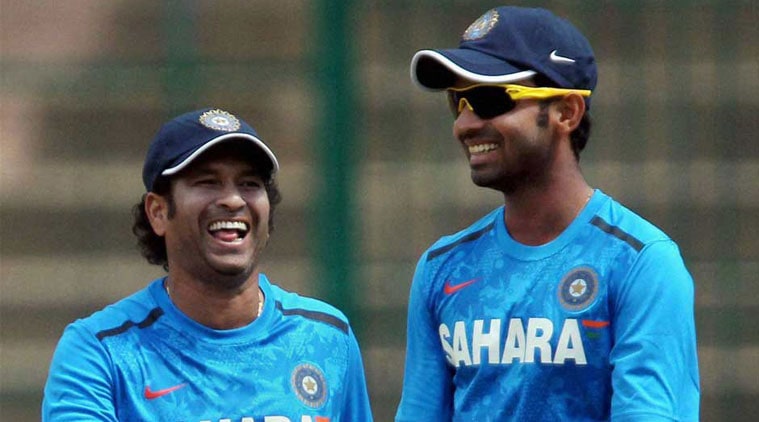 6.  Scored Centuries In Both Innings Of A Test Match
Rahane became the 5th Indian batsman ever to score centuries in both innings of a test match. He achieved this feat  against the mighty South Africans At New Dehli in 2015.
7.  His Secret Dream
Rahane's secret dream is to own a Lamborghini and an Aston Martin so is Cric- Crak's. High five on that one Rahane!
Always be the gentleman you always have been Ajinkya Rahane(jinx)  🙂 More Power to you!